Weapons are the bread-and-butter of the war-torn world of Battletech. There are four basic categories, each with its own, distinct traits and features. Range is one of the most important factors in choosing the weapons to outfit your mech with.
Range
The following table shows the effective and max ranges of each of the weapon types (Measured in 30 meter tile increments). Gray shows sub-optimal range, while white refers to optimal ranges. No color means the weapon cannot be fired at these ranges. Be aware that all mechs have a 300 Meter visual range by default, however weapons with longer range can be fired at any target with has a direct path to its target that is seen by ANY allied mech or sensor lock. The sole exception is Long Range Missiles (LRMs) which can also shoot targets indirectly allowing the attacking mech to hide behind cover.
Class
Type
Range (meters)
30
60
90
120
150
180
210
240
270
300
330
360
390
420
450
480
510
540
570
600
630
660
690
720
Support
Support
Small Laser ER
Ballistic
Gauss
AC/2
AC/5
AC/10
AC/20
LB 2-X
LB 5-X
LB 10-X
LB 20-X
UAC/2
UAC/5
UAC/10
UAC/20
Mortar
x
x
x
x
x
x
x
x
x
x
x
x
x
x
Thumper
x
x
x
x
x
x
x
x
x
x
x
x
x
x
Energy
Medium
Medium ER
Large
Large ER
PPC
PPC ER
SNUB PPC
Missile
SRM
LRM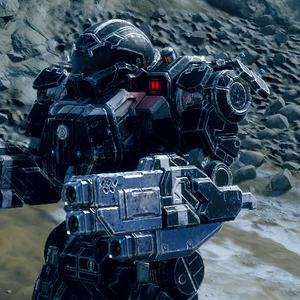 The simplest weapons are the energy weapons. Energy weapons don't require any ammunition, but generate a lot of heat and (with the exception of PPCs) inflict very little stability damage. The basic energy weapons are the medium lasers ​and large lasers​, but the real king of this type is the Particle Projector Cannon (PPC)​: huge damage and long range, but also massive heat.
Medium and large lasers get a bonus to accuracy over other weapons.
The PPC is able to deal a moderate amount of stability damage upon impact.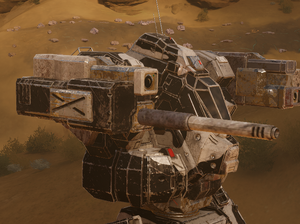 Ballistic weapons are familiar; they're similar to modern guns. There are four different classes of autocannon: the AC/2​, the AC/5​, the AC/10​ and the AC/20​. The numbers indicate how powerful the weapon is; the AC/2 does comparatively light damage, but has enormous range, while the AC/20 does absolutely crushing damage (it's the most damaging weapon in the game!) but has very short range.
Ballistic weapons generate less heat, but use ammunition.
That ammo can run out or even be damaged by enemy fire and explode, causing additional internal damage to that location on your 'Mech.
All ballistic weapons deal some stability damage relative to their class as well.
Ballistic weapons incur a small "Refire Penalty" to their to-hit % when fired multiple turns in a row.
| | Ammo per 1 ton |
| --- | --- |
| AC/2 | 25 |
| AC/5 | 15 |
| AC/10 | 8 |
| AC/20 | 5 |
| LB 2-X | 25 |
| LB 5-X | 15 |
| LB 10-X | 8 |
| LB 20-x | 5 |
| Gauss | 8 |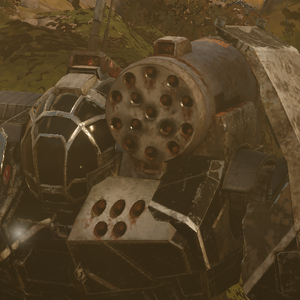 Missile weapons come in two flavors, long-range missiles (LRM​) and short-range missiles (SRM​). Missile batteries have a number next to them; this tells you how many missiles will fire when you use that weapon. The LRM-10 weapon fires ten long-range missiles; the SRM-2 fires just two short-range missiles. It's best to think of SRMs as shotguns: a lot of damage delivered up close. LRMs do less damage per-missile, but come in bigger launchers and can fire extremely far.
LRMs also can fire at targets that you don't have a direct line-of-sight (LOS) to, which you'll recognize by the curved arc shape of the red line of fire.
Missiles deal more Stability Damage than the other weapon types do.
The larger the size number of a launcher, the faster it chews through ammo.
Each missile rolls a separate to-hit chance, so you're more likely to hit with some of the missiles, but not all of them.

Hit location is also rolled for each missile separately, so missile damage tends to be spread over the entire target, rather than concentrated on a single location.
The odds of getting a head hit is rolled once for each missile rack, only allowing one hit per rack. This makes large salvos of lower count missile racks better at inflicting pilot injuries than fewer large count racks.
| | Ammo Per 1 Ton |
| --- | --- |
| SRM | 100 |
| LRM | 120 |
The final category of weapons comprises support weapons. This includes, the machine gun​, the small laser​, and the flamer​. They have extremely short range and low damage, but they also have a special feature: unlike larger weapons, they can be fired when you melee attack an enemy. If you're close enough, they can also be fired as normal ranged weaponry.
Machine guns are excellent at dealing critical hits to exposed structure.
Small lasers deal good raw damage relative to their heat generation.
Flamers can decrease the performance of opponents by raising their heat levels.
Full table
Weapon
Manufacturer
Category
Cost (k)
Tonnage
Slots
Damage
Stability
damage
Heat
Range (m)
min/opt/max
Other
AC/2
GM
Ballistic

50

6
1
25
5
4
120 / 480 / 720
-1 refire accuracy
AC/2 +
Defiance
Ballistic

90

6
1
25
5
4
120 / 480 / 720
-1 refire accuracy


+2 accuracy

AC/2 +
Federated
Ballistic

60

6
1
25
5
4
120 / 480 / 720
-1 refire accuracy


+25% critical

AC/2 +
Kali Yama
Ballistic

70

6
1

30 (+5)

5
4
120 / 480 / 720
-1 refire accuracy
AC/2 +
Mydron
Ballistic

70

6
1
25

15 (+10)

4
120 / 480 / 720
-1 refire accuracy
AC/2 ++
Defiance
Ballistic

130

6
1
25
5
4
120 / 480 / 720
-1 refire accuracy


+4 accuracy

AC/2 ++
Federated
Ballistic

80

6
1
25
5
4
120 / 480 / 720
-1 refire accuracy


+50% critical

AC/2 ++
Imperator
Ballistic

100

6
1
25
5
4
120 / 480 / 720
-1 refire accuracy


+2 accuracy




+25% critical

AC/2 ++
Kali Yama
Ballistic

80

6
1

35 (+10)

5
4
120 / 480 / 720
-1 refire accuracy
AC/2 ++
Mydron
Ballistic

90

6
1
25

25 (+20)

4
120 / 480 / 720
-1 refire accuracy
AC/2 +++
Imperator
Ballistic

150

6
1
25
5
4
120 / 480 / 720
-1 refire accuracy


+4 accuracy




+50% critical

AC/5
GM
Ballistic

100

8
2
45
10
8
90 / 360 / 540
-1 refire accuracy
AC/5 +
Defiance
Ballistic

170

8
2
45
10
8
90 / 360 / 540
-1 refire accuracy


+2 accuracy

AC/5 +
Federated
Ballistic

110

8
2
45
10
8
90 / 360 / 540
-1 refire accuracy


+25% critical

AC/5 +
Imperator
Ballistic

120

8
2
45

20 (+10)

8
90 / 360 / 540
-1 refire accuracy
AC/5 +
Kali Yama
Ballistic

120

8
2

50 (+5)

10
8
90 / 360 / 540
-1 refire accuracy
AC/5 ++
Defiance
Ballistic

240

8
2
45
10
8
90 / 360 / 540
-1 refire accuracy


+4 accuracy

AC/5 ++
Federated
Ballistic

120

8
2
45
10
8
90 / 360 / 540
-1 refire accuracy


+50% critical

AC/5 ++
Imperator
Ballistic

140

8
2
45

30 (+20)

8
90 / 360 / 540
-1 refire accuracy
AC/5 ++
Kali Yama
Ballistic

130

8
2

55 (+10)

10
8
90 / 360 / 540
-1 refire accuracy
AC/5 ++
Mydron
Ballistic

190

8
2
45

20 (+10)

8
90 / 360 / 540
-1 refire accuracy


+2 accuracy

AC/5 +++
Mydron
Ballistic

270

8
2
45

30 (+20)

8
90 / 360 / 540
-1 refire accuracy


+4 accuracy

AC/10
Western
Ballistic

140

12
3
60
20
12
0 / 300 / 450
-2 refire accuracy
AC/10 +
Defiance
Ballistic

230

12
3
60
20
12
0 / 300 / 450
-2 refire accuracy


+2 accuracy

AC/10 +
Imperator
Ballistic

150

12
3
60
20
12
0 / 300 / 450
-2 refire accuracy


+25% critical

AC/10 +
Kali Yama
Ballistic

160

12
3

65 (+5)

20
12
0 / 300 / 450
-2 refire accuracy
AC/10 +
Mydron
Ballistic

160

12
3
60

30 (+10)

12
0 / 300 / 450
-2 refire accuracy
AC/10 ++
Defiance
Ballistic

310

12
3
60
20
12
0 / 300 / 450
-2 refire accuracy


+4 accuracy

AC/10 ++
Federated
Ballistic

170

12
3
60

30 (+10)

12
0 / 300 / 450
-2 refire accuracy


+25% critical

AC/10 ++
Imperator
Ballistic

160

12
3
60
20
12
0 / 300 / 450
-2 refire accuracy


+50% critical

AC/10 ++
Kali Yama
Ballistic

170

12
3

70 (+10)

20
12
0 / 300 / 450
-2 refire accuracy
AC/10 ++
Mydron
Ballistic

180

12
3
60

40 (+20)

12
0 / 300 / 450
-2 refire accuracy
AC/10 +++
Federated
Ballistic

190

12
3
60

40 (+20)

12
0 / 300 / 450
-2 refire accuracy


+50% critical

AC/20
Kali Yama
Ballistic

180

14
4
100
40
24
0 / 180 / 270
-2 refire accuracy
AC/20 +
Defiance
Ballistic

270

14
4
100
40
24
0 / 180 / 270
-2 refire accuracy


+2 accuracy

AC/20 +
Federated
Ballistic

180

14
4
100
40
24
0 / 180 / 270
-2 refire accuracy


+25% critical

AC/20 +
Imperator
Ballistic

190

14
4

110 (+10)

40
24
0 / 180 / 270
-2 refire accuracy
AC/20 +
Mydron
Ballistic

190

14
4
100

50 (+10)

24
0 / 180 / 270
-2 refire accuracy
AC/20 ++
Defiance
Ballistic

370

14
4
100
40
24
0 / 180 / 270
-2 refire accuracy


+4 accuracy

AC/20 ++
Federated
Ballistic

190

14
4
100
40
24
0 / 180 / 270
-2 refire accuracy


+50% critical

AC/20 ++
Imperator
Ballistic

210

14
4

120 (+20)

40
24
0 / 180 / 270
-2 refire accuracy
AC/20 ++
Kali Yama
Ballistic

200

14
4

110 (+10)

50 (+10)

24
0 / 180 / 270
-2 refire accuracy
AC/20 ++
Mydron
Ballistic

200

14
4
100

60 (+20)

24
0 / 180 / 270
-2 refire accuracy
AC/20 +++
Kali Yama
Ballistic

230

14
4

120 (+20)

60 (+20)

24
0 / 180 / 270
-2 refire accuracy
Gauss Rifle
SCI
Ballistic

1480

15
5
75
40
5
180 / 360 / 660
+1 accuracy
M Laser
Hellion
Energy

60

1
1
25
0
12
0 / 180 / 270
+1 accuracy
M Laser +
ExoStar
Energy

70

1
1
25
0
12
0 / 180 / 270
+1 accuracy


+25% critical

M Laser +
Intek
Energy

80

1
1
25
0
12
0 / 180 / 270

+2 accuracy (+1)

M Laser +
Magna
Energy

70

1
1

30 (+5)

0
12
0 / 180 / 270
+1 accuracy
M Laser ++
Diverse Optics
Energy

80

1
1
25
0
12
0 / 180 / 270

+2 accuracy (+1)




+25% critical

M Laser ++
ExoStar
Energy

70

1
1
25
0
12
0 / 180 / 270
+1 accuracy


+50% critical

M Laser ++
Intek
Energy

110

1
1
25
0
12
0 / 180 / 270

+4 accuracy (+3)

M Laser ++
Magna
Energy

90

1
1

35 (+10)

0
12
0 / 180 / 270
+1 accuracy
M Laser +++
Diverse Optics
Energy

120

1
1
25
0
12
0 / 180 / 270

+4 accuracy (+3)




+50% critical

L Laser
Krupp
Energy

140

5
2
40
0
18
0 / 300 / 450
+1 accuracy
L Laser +
Diverse Optics
Energy

180

5
2
40
0
18
0 / 300 / 450

+2 accuracy (+1)

L Laser +
ExoStar
Energy

150

5
2
40
0
18
0 / 300 / 450
+1 accuracy


+25% critical

L Laser +
Intek
Energy

160

5
2

45 (+5)

0
18
0 / 300 / 450
+1 accuracy
L Laser ++
Diverse Optics
Energy

250

5
2
40
0
18
0 / 300 / 450

+4 accuracy (+3)

L Laser ++
ExoStar
Energy

160

5
2
40
0
18
0 / 300 / 450
+1 accuracy


+50% critical

L Laser ++
Intek
Energy

180

5
2

50 (+10)

0
18
0 / 300 / 450
+1 accuracy
L Laser ++
Magna
Energy

200

5
2

45 (+5)

0
18
0 / 300 / 450

+2 accuracy (+1)

L Laser +++
Magna
Energy

320

5
2

50 (+10)

0
18
0 / 300 / 450

+4 accuracy (+3)

PPC
Magna
Energy

180

7
3
50
20
35
90 / 360 / 540
Inflicts -1 accuracy debuff
PPC +
Ceres Arms
Energy

200

7
3
50

35 (+15)

35
90 / 360 / 540
Inflicts -1 accuracy debuff
PPC +
Donal
Energy

190

7
3

55 (+5)

20
35
90 / 360 / 540
Inflicts -1 accuracy debuff
PPC +
Tiegart
Energy

270

7
3
50
20
35
90 / 360 / 540
Inflicts -1 accuracy debuff


+2 accuracy

PPC ++
Ceres Arms
Energy

230

7
3
50

50 (+30)

35
90 / 360 / 540
Inflicts -1 accuracy debuff
PPC ++
Donal
Energy

210

7
3

60 (+10)

20
35
90 / 360 / 540
Inflicts -1 accuracy debuff
PPC ++
Tiegart
Energy

360

7
3
50
20
35
90 / 360 / 540
Inflicts -1 accuracy debuff


+4 accuracy

Snub PPC
Fusigon
Energy
260
6
2
15 ( x 5)
5 ( x 5)
35
0 / 270 / 360
Inflicts -1 accuracy debuff
Snub PPC+
Cers Arms
Energy
300
6
2
15 ( x 5)
10 ( x5) +5
35
0 / 270 / 360
inflicts -1 accuracy debuff
ER M Laser
SCI
Energy

410

1
1
25
0
20
0 / 270 / 360
+1 accuracy
+25% critical
M Pulse
SCI
Energy

360

2
1
30
0
16
0 / 180 / 270
+2 accuracy
ER L Laser
SCI
Energy

610

5
2
40
0
25
0 / 330 / 570
+1 accuracy
+25% critical
L Pulse
SCI
Energy

810

7
2
55
0
30
0 / 300 / 450
+2 accuracy
ER PPC
Kong Interstellar
Energy

930

7
3
50
20
45
0 / 510 / 690
LRM5
Irian
Missile

80

2
1
20 (4 × 5)
10 (2 × 5)
5
180 / 420 / 630
Indirect fire
LRM5 +
Delta
Missile

80

2
1
20 (4 × 5)

15 (2+1 × 5)

5
180 / 420 / 630
Indirect fire
LRM5 +
LongFire
Missile

90

2
1
20 (4 × 5)
10 (2 × 5)
5
180 / 420 / 630
Indirect fire


+25% critical

LRM5 +
Telos
Missile

90

2
1

25 (4+1 × 5)

10 (2 × 5)
5
180 / 420 / 630
Indirect fire
LRM5 ++
Delta
Missile

100

2
1
20 (4 × 5)

25 (2+3 × 5)

5
180 / 420 / 630
Indirect fire
LRM5 ++
LongFire
Missile

100

2
1
20 (4 × 5)
10 (2 × 5)
5
180 / 420 / 630
Indirect fire


+50% critical

LRM5 ++
Telos
Missile

110

2
1

30 (4+2 × 5)

10 (2 × 5)
5
180 / 420 / 630
Indirect fire
LRM5 ++
Zeus
Missile

100

2
1
20 (4 × 5)

15 (2+1 × 5)

5
180 / 420 / 630
Indirect fire


+25% critical

LRM5 +++
Zeus
Missile

120

2
1
20 (4 × 5)

20 (2+2 × 5)

5
180 / 420 / 630
Indirect fire


+50% critical

LRM10
Jackson
Missile

150

5
2
40 (4 × 10)
20 (2 × 10)
12
180 / 420 / 630
Indirect fire
LRM10 +
Delta
Missile

160

5
2
40 (4 × 10)

30 (2+1 × 10)

12
180 / 420 / 630
Indirect fire
LRM10 +
LongFire
Missile

160

5
2
40 (4 × 10)
20 (2 × 10)
12
180 / 420 / 630
Indirect fire


+25% critical

LRM10 +
Telos
Missile

180

5
2

50 (4+1 × 10)

20 (2 × 10)
12
180 / 420 / 630
Indirect fire
LRM10 ++
Delta
Missile

200

5
2
40 (4 × 10)

50 (2+3 × 10)

12
180 / 420 / 630
Indirect fire
LRM10 ++
LongFire
Missile

170

5
2
40 (4 × 10)
20 (2 × 10)
12
180 / 420 / 630
Indirect fire


+50% critical

LRM10 ++
Telos
Missile

200

5
2

60 (4+2 × 10)

20 (2 × 10)
12
180 / 420 / 630
Indirect fire
LRM10 ++
Zeus
Missile

170

5
2
40 (4 × 10)

30 (2+1 × 10)

12
180 / 420 / 630
Indirect fire


+25% critical

LRM10 +++
Zeus
Missile

200

5
2
40 (4 × 10)

40 (2+2 × 10)

12
180 / 420 / 630
Indirect fire


+50% critical

LRM15
Irian
Missile

220

7
3
60 (4 × 15)
30 (2 × 15)
14
180 / 420 / 630
Indirect fire
LRM15 +
Delta
Missile

250

7
3
60 (4 × 15)

45 (2+1 × 15)

14
180 / 420 / 630
Indirect fire
LRM15 +
LongFire
Missile

230

7
3
60 (4 × 15)
30 (2 × 15)
14
180 / 420 / 630
Indirect fire


+25% critical

LRM15 +
Telos
Missile

260

7
3

75 (4+1 × 15)

30 (2 × 15)
14
180 / 420 / 630
Indirect fire
LRM15 ++
Delta
Missile

300

7
3
60 (4 × 15)

75 (2+3 × 15)

14
180 / 420 / 630
Indirect fire
LRM15 ++
LongFire
Missile

240

7
3
60 (4 × 15)
30 (2 × 15)
14
180 / 420 / 630
Indirect fire


+50% critical

LRM15 ++
Telos
Missile

310

7
3

90 (4+2 × 15)

30 (2 × 15)
14
180 / 420 / 630
Indirect fire
LRM15 ++
Zeus
Missile

260

7
3
60 (4 × 15)

45 (2+1 × 15)

14
180 / 420 / 630
Indirect fire


+25% critical

LRM15 +++
Zeus
Missile

290

7
3
60 (4 × 15)

60 (2+2 × 15)

14
180 / 420 / 630
Indirect fire


+50% critical

LRM20
Jackson
Missile

290

10
4
80 (4 × 20)
40 (2 × 20)
18
180 / 420 / 630
Indirect fire
LRM20 +
Delta
Missile

320

10
4
80 (4 × 20)

60 (2+1 × 20)

18
180 / 420 / 630
Indirect fire
LRM20 +
LongFire
Missile

300

10
4
80 (4 × 20)
40 (2 × 20)
18
180 / 420 / 630
Indirect fire


+25% critical

LRM20 +
Telos
Missile

340

10
4

100 (4+1 × 20)

40 (2 × 20)
18
180 / 420 / 630
Indirect fire
LRM20 ++
Delta
Missile

350

10
4
80 (4 × 20)

80 (2+2 × 20)

18
180 / 420 / 630
Indirect fire
LRM20 ++
LongFire
Missile

310

10
4
80 (4 × 20)
40 (2 × 20)
18
180 / 420 / 630
Indirect fire


+50% critical

LRM20 ++
Telos
Missile

400

10
4

120 (4+2 × 20)

40 (2 × 20)
18
180 / 420 / 630
Indirect fire
LRM20 ++
Zeus
Missile

330

10
4
80 (4 × 20)

60 (2+1 × 20)

18
180 / 420 / 630
Indirect fire


+25% critical

LRM20 +++
Zeus
Missile

370

10
4
80 (4 × 20)

80 (2+2 × 20)

18
180 / 420 / 630
Indirect fire


+50% critical

SRM2
Holly
Missile

20

1
1
16 (8 × 2)
6 (3 × 2)
4
0 / 180 / 270
SRM2 +
Holly
Missile

30

1
1

20 (8+2 × 2)

6 (3 × 2)
4
0 / 180 / 270
SRM2 +
Irian
Missile

30

1
1
16 (8 × 2)
6 (3 × 2)
4
0 / 180 / 270

+25% critical

SRM2 ++
Holly
Missile

40

1
1

24 (8+4 × 2)

6 (3 × 2)
4
0 / 180 / 270
SRM2 ++
Irian
Missile

40

1
1
16 (8 × 2)
6 (3 × 2)
4
0 / 180 / 270

+50% critical

SRM2 ++
Valiant
Missile

30

1
1

20 (8+2 × 2)

8 (3+1 × 2)

4
0 / 180 / 270
SRM2 +++
Valiant
Missile

40

1
1

24 (8+4 × 2)

10 (3+2 × 2)

4
0 / 180 / 270
SRM4
TharHes
Missile

60

2
1
32 (8 × 4)
12 (3 × 4)
8
0 / 180 / 270
SRM4 +
Holly
Missile

70

2
1

40 (8+2 × 4)

12 (3 × 4)
8
0 / 180 / 270
SRM4 +
Irian
Missile

60

2
1
32 (8 × 4)
12 (3 × 4)
8
0 / 180 / 270

+25% critical

SRM4 ++
Holly
Missile

90

2
1

48 (8+4 × 4)

12 (3 × 4)
8
0 / 180 / 270
SRM4 ++
Irian
Missile

70

2
1
32 (8 × 4)
12 (3 × 4)
8
0 / 180 / 270

+50% critical

SRM4 ++
Valiant
Missile

80

2
1

40 (8+2 × 4)

16 (3+1 × 4)

8
0 / 180 / 270
SRM4 +++
Valiant
Missile

90

2
1

48 (8+4 × 4)

20 (3+2 × 4)

8
0 / 180 / 270
SRM6
TharHes
Missile

90

3
2
48 (8 × 6)
18 (3 × 6)
12
0 / 180 / 270
SRM6 +
Holly
Missile

140

3
2

60 (8+2 × 6)

18 (3 × 6)
12
0 / 180 / 270

+1 accuracy

SRM6 +
Irian
Missile

100

3
2
48 (8 × 6)
18 (3 × 6)
12
0 / 180 / 270

+25% critical

SRM6 ++
Holly
Missile

330

3
2

72 (8+4 × 6)

18 (3 × 6)
12
0 / 180 / 270

+5 accuracy

SRM6 ++
Irian
Missile

100

3
2
48 (8 × 6)
18 (3 × 6)
12
0 / 180 / 270

+50% critical

SRM6 ++
Valiant
Missile

120

3
2

60 (8+2 × 6)

24 (3+1 × 6)

12
0 / 180 / 270
SRM6 +++
Valiant
Missile

140

3
2

72 (8+4 × 6)

30 (3+2 × 6)

12
0 / 180 / 270
Flamer
Skylight
Support

20

1
1
5
0
0
0 / 90 / 90
10 heat damage
Flamer +
Hotshot
Support

30

1
1

10 (+5)

0
0
0 / 90 / 90
10 heat damage
Flamer ++
Olympus
Support

30

1
1
5
0
0
0 / 90 / 90

15 heat damage (+5)

S Laser
Martell
Support

20

0.5
1
20
0
6
0 / 90 / 90
+1 accuracy
S Laser +
Diverse Optics
Support

30

0.5
1
20
0
6
0 / 90 / 90

+2 accuracy (+1)

S Laser +
ExoStar
Support

20

0.5
1
20
0
6
0 / 90 / 90
+1 accuracy


+25% critical

S Laser +
Magna
Support

30

0.5
1

25 (+5)

0
6
0 / 90 / 90
+1 accuracy
S Laser ++
Diverse Optics
Support

40

0.5
1
20
0
6
0 / 90 / 90

+4 accuracy (+3)

S Laser ++
ExoStar
Support

30

0.5
1
20
0
6
0 / 90 / 90
+1 accuracy


+50% critical

S Laser ++
Intek
Support

30

0.5
1

25 (+5)

0
6
0 / 90 / 90
+1 accuracy


+25% critical

S Laser ++
Magna
Support

40

0.5
1

30 (+10)

0
6
0 / 90 / 90
+1 accuracy
S Laser +++
Intek
Support

40

0.5
1

30 (+10)

0
6
0 / 90 / 90
+1 accuracy


+50% critical

MG
Sperry Browning
Support

10

0.5
1
15 (3 × 5)
0
0
0 / 90 / 90
+50% critical
ER S Laser
SCI
Support

220

0.5
1
20
0
10
0 / 150 / 150
+1 accuracy
+25% critical
S Pulse
SCI
Support

140

1
1
25
0
10
0 / 90 / 90
+2 accuracy
Mortar
equipment
3000
7
4
10-50 every location
4 per
0
mech view distance
all in circle 1 shot
Thumper
equipment
0
10
8
10-50 every location
4 per
0
mech view distance
all in circle 2 shots