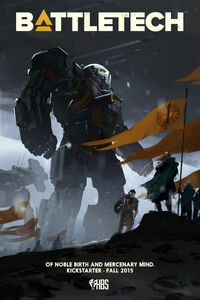 Welcome to the Battletech Wiki
Welcome to the Battletech Wiki, Commander.
Please contribute by creating new articles or expanding on existing ones.
Spotlight: Battletech
Jordan Weisman, the creator of BattleTech and MechWarrior, is back with the first turn-based BattleTech game for PC in over two decades. Steeped in the feudal political intrigue of the BattleTech universe, the game features an open-ended Mercenaries-style campaign that blends RPG 'Mech and MechWarrior management with modern turn-based tactics. The Aurigan Reach, a vast frontier region of Known Space, falls under the boot of the new Aurigan Directorate. Yours is the duty to set things right.
Wiki Community
We are currently maintaining 1,639 pages (506 articles)!
Recent changes | New pages | Missing pages
If there's anything missing on the wiki, use the box below to start a new article:
You can also create new pages using the search box. Just type a new title, click "Go", and near the top of the results page, there will be a link to create the new page.
See how you can help contribute to Battletech Wiki! Remember to maintain a standard for grammar and punctuation in your contributions, please.
Register an account to keep track of your contributions.