Battlemech shop locations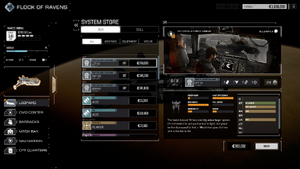 The art of managing a mech lance isn't just about fighting - it's about knowing where to shop for the best mechs. The game uses spawn lists to determine which parts spawn where, with the principal factor being the planet's attributes (typically industry, though other factors like Star League remnants or old battlefields also play a factor. The following table summarizes which tags (or their combination) give you a chance of finding which mech.
A word of note: There seems to be a degree of randomness as to which mechs spawn where, plus a limit for the amount of mechs that can spawn on any given planet. As such, the following tables are guidelines as to where these mechs can be found, rather than a master list of guaranteed spawns.
| Planet Tags | Notes | Specials |
| --- | --- | --- |
| Available on all planets from the start | Spawn list is removed after recovering the Argo | All of these are guaranteed to spawn |
| | Not available until Argo is recovered | |
| | | |
| | Not available until Argo is recovered | |
| | Not available until Argo is recovered | |
| | Not available until Argo is recovered | |
| Inner Sphere-Level Civilization | Not available until Argo is recovered | |
| Inner Sphere-Level Civilization | Not available until Argo is recovered | |
| Inner Sphere-Level Civilization | Not available until Argo is recovered and (?) | |
| | | |
| Former Star League Presence | Not available until Argo is recovered | |
| Faction | Required tags | Specials |
| --- | --- | --- |
| | | |
| | | |
| | | |
| | | |
| | | |
Required Tags
Exclusion Tags
Specials
To access these 'mechs, you need to liberate these planets for the Restoration